The rising popularity of "balletcore" is changing the wedding dress industry. This trend embraces designs reminiscent of ballerinas, exuding an ultra-feminine aesthetic.
Picture yourself in a gown that captures the essence of a ballerina mid-pirouette, making every step feel like an elegant glide. Ballet-inspired wedding dresses are more than just garments. They are works of art that allow you to channel your inner ballerina as you float down the aisle.
In this guest blog, we'll discuss in detail ideas to help you find your ideal ballet-inspired designer wedding dress in Denver. We'll discuss the graceful silhouettes, delicate fabrics, and charming details that make these dresses. So, let's dive in!
Choose Graceful Silhouettes
Graceful silhouettes are the defining feature of a stunning ballerina-inspired wedding dress. Here are some silhouettes that work well with these kinds of dresses.
A-Line Silhouette
The classic A-line silhouette is universally flattering, resembling the shape of a capital "A." It gently follows the curves from the shoulders to the hips and then flares gracefully, creating a timeless and flattering look.
Ballgown Silhouette
Ballgowns have a silhouette reminiscent of tutus, making them ideal for ballet-inspired dresses. These gowns feature fitted bodices that lead to a full, dreamy skirt, adding an element of enchantment.
Empire Waistline Silhouette
Empire waistlines, which cinch just below the bust, are reminiscent of classical ballet costumes. The silhouette flows gently downward and skimming the body, providing comfort while maintaining an ethereal quality.
These ballet-inspired silhouettes are versatile, ensuring that brides exude an ethereal essence that every bride aspires to on her special day.
Utilize Fabrics Like Chiffon and Tulle
Chiffon and tulle, chosen for their softness and graceful movement, elevate wedding gowns to a level of ethereal beauty that's truly captivating.
Chiffon, with its lightweight and airy texture, drapes over the bride's silhouette like a gentle caress, creating an effortless and romantic look. Tulle, on the other hand, adds a touch of dreaminess with its sheer layers that seem to float as the bride walks, reminiscent of a ballerina's tutu in motion.
Whether you're envisioning a classic ballerina's grace or a more contemporary interpretation. Utilizing chiffon and tulle in ballet-inspired wedding dresses ensures that your elegant gown will leave an indelible mark on your special day.
Opt for Ballet-Style Bodices
Ballet-style bodices are pivotal in achieving the ethereal allure of ballerina-inspired wedding dresses. These bodices, characterized by their snug yet comfortable fit, bring an air of delicate grace to the bride's ensemble. Often adorned with intricate embroidery and delicate lace, they serve as the centerpiece of the gown. They help frame the bride's upper body with intricate details that resemble the elegance of a ballet costume.
Image filename: ballet-inspired-wedding-dress-with-pastel-flowers
Alt-text: a ballet-inspired wedding dress with pastel pink flowers
Select Pastel and Neutral Color Palettes
Pastel and neutral color palettes are a notable trend in balletcore wedding dresses, bringing a sense of understated sophistication to bridal fashion. These soft and muted tones, ranging from delicate blush pinks and serene ivories to muted grays and pale blues, offer a refreshing departure from traditional white.
Pastels infuse the gowns with a touch of femininity, reminiscent of a ballerina's grace, while neutral shades provide a subtle, timeless charm. These color choices not only evoke a sense of modernity but also allow brides to express their individuality. They also create a canvas that helps the intricate lacework and exquisite detailing shine, making every nuance of the dress a focal point.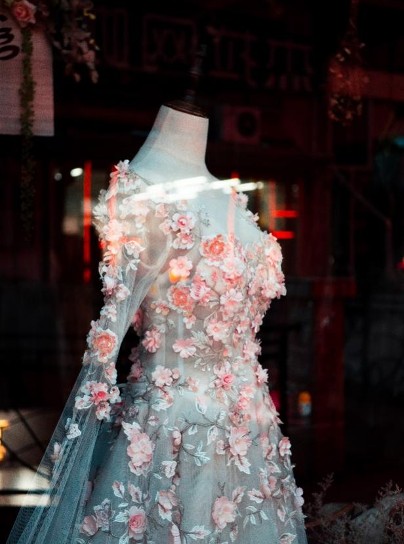 Find your ballet-inspired dream wedding dress at Platinum Bridal's collection, where elegance meets modernity. Their carefully curated selection of designer wedding dresses in Denver, feature graceful silhouettes, flowing fabrics, and ballet-style bodices. Platinum Bridal houses some of the most notable designer collections, such as Allure Bridals, Eddie K, Kitten Chen, and Sophia Tolli.
Explore their exquisite collection today and let them help you find the perfect gown that will make your wedding day truly enchanting.
Visit Platinum Bridal's bridal boutique in Denver today, or contact them now to learn more.